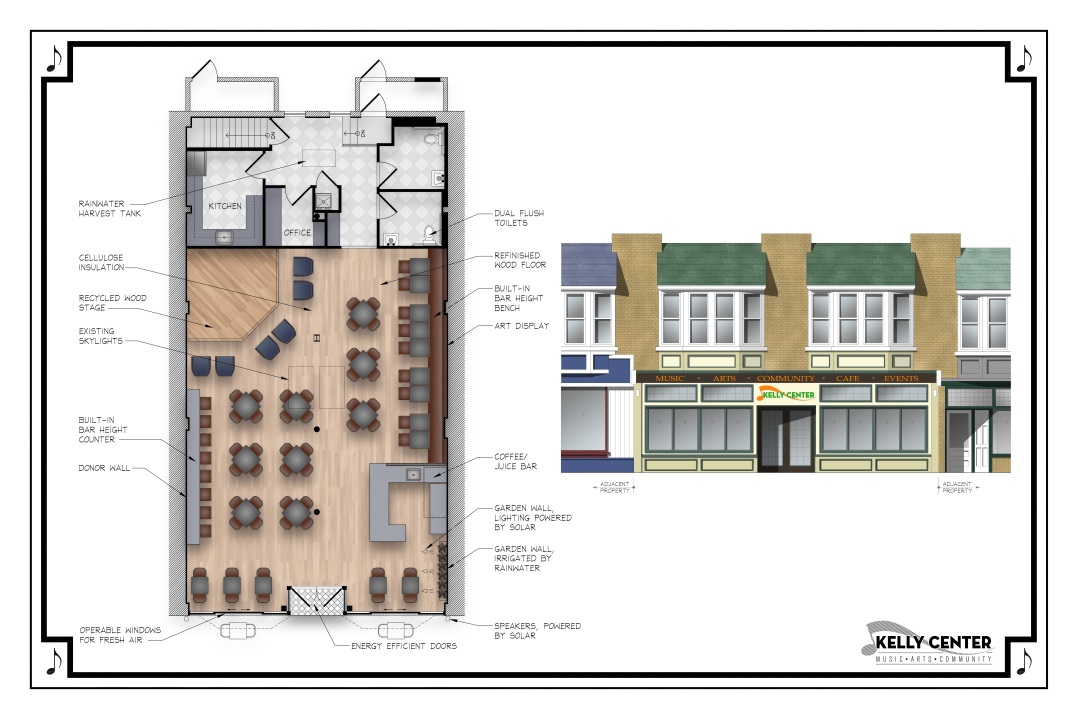 Concerts at the Kelly Center are conducted in a Listening Room environment. We encourage respect for the music, performers and surrounding patrons. We ask attendees to silence their phones and keep any conversation to a whisper.
The Kelly Center is not a bar.
We are BYOB.
$5 per drinker corkage fee at most events.
The Sound System
The main performance sound system consists of three Bose RMU208 full range speakers located left, right and center of the stage. The RoomMatch Utility RMU208 is a small-format sound reinforcement loudspeaker, designed for use in high-quality performing music applications, making it the speaker of choice for the Kelly Center. A single Bose MB210 subwoofer is part of the main performance system. The MB210 is designed to complement the RMU208 loudspeakers with additional bass impact. Both the RMU208 loudspeakers and MB210 subwoofer is powered by a Bose PowerMatch 8500 power amplifier. Two Bose S1 Pro multi position stage monitors.  The performance system is controlled via an Allen & Heath Q-16 digital mixing console. Background system and outdoor system is (4) Bose DS100f and (2) Bose DS16se outside. Control and power is from a Bose PM8500 and ESP1240.
The secondary sound system consists of four white Bose FreeSpace DS 100F ceiling speakers and two Bose white FreeSpace DS 16SE on the front exterior of the building. This foreground system is controlled by a Bose ControlSpace CC-16 control center. All amplification, sound processing, surge protection and misc. equipment is located in an audio rack located in the back office.