Havertown's New Gathering Place
Welcome to the Kelly Center.  Stop in during the day for coffee, tea or a smoothie in our New Avenue Café.  Relax on our overstuffed leather couches. Bring your computer and connect to our FREE Wifi.  Meet up with friends and business associates.  We have a Book Club, Storytime for children, and BYOB concerts at night.  And more on the way.  Join us!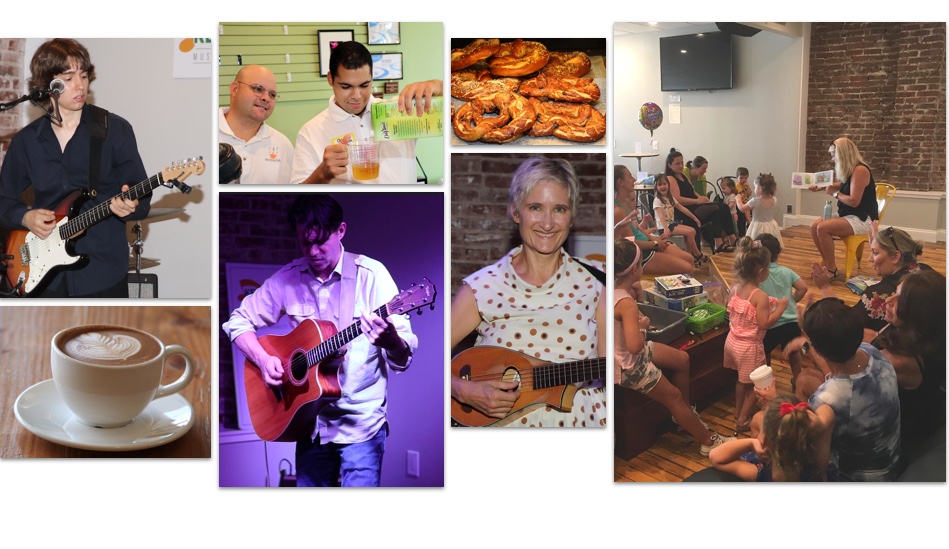 Year in Review
Over the course of 2019/2020, the Kelly Center has achieved so much and persevered through COVID-19 with the support of the volunteers, donors and the artists & musicians.
Get the Inside Scoop
Events for the whole community
The Kelly Center has a wide array of events that compliments everyone's interests. We offer things like daytime storytelling for kids, book club discussions, comedy and singing open mics, holiday-themed events, art shows and evening music acts. Artists from around the area share their talents and sounds ranging from jazz & blues to folk and singer/songwriter.

Featuring Furnance Hill Coffee, Smoothies, Fresh Baked Good, Espresso
In addition to being a venue to see music and other cultural events, the Kelly Center houses the New Avenue Café. The motivation for New Avenue Café stems from a desire to create meaningful employment for adults with disabilities. The Cafe is a project of New Avenue Foundation, a nonprofit organization begun by two fathers of adult daughters with disabilities, Jim Wurster and Tom Reinke. These dads wanted to expand the social and employment opportunities for their daughters as well as others and to ensure that all members of their local communities would feel welcome and valued. Their goal is to enrich the community and the lives of our employees, providing them the opportunity to showcase their abilities and value as individuals.
About the Kelly Center
In May 2019, Kelly Music for Life opened the Kelly Center, a brand new, state-of-the-art performance venue in Haverford Township. The Kelly Center is a safe and comfortable place for teens to enjoy a variety of after-school programming in an alcohol and drug free setting, and caters to the community at large with a diverse calendar of cultural events that are 21+, including comedy, music, art and more.